In Home Personal Trainer Center City Philadelphia
Are you hypertensive? Overweight? Lack energy? Want to fit into those skinny jeans or just feel overall better?  I have the answer for you, your very own In Home Personal Trainer, Center City and surrounding areas in Philadelphia have THE systems and solutions to get YOU the best results, compared to traditional lifting weights.

Learn how our In home Personal Training in Center City Philadelphia can help you get pretty amazing results in just a matter of weeks! Experience in just weeks, inches lost, strength gains and fitting into those jeans or old favorite clothes! I take the guesswork out of program design by utilizing a sensible meal plan and the Optimum Performance Training System which translates into the most effective workout available!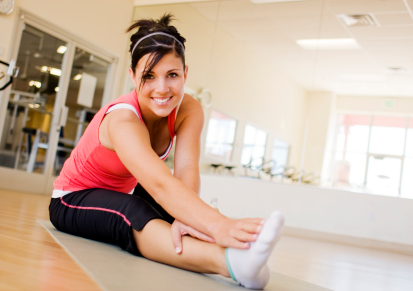 In just weeks,get that body you want with Philadelphia's Personal Trainer, Phil Nicolaou! I bring the workout to your home at a time that is convenient for you or in our studio at the trainerhall.com or in your home . As a Doctor of Fitness Training I have the solutions for your hypertension, obesity, cholesterol,
Look No further! Allow Philadelphia Personal Trainer Phil Nicolaou to get you the results you want! Through Optimum performance training , the step by step process engages multiple muscle groups, burning the most calories possible in the allotted time, giving you the best results! It combines core strength, muscle strength, aerobics and much more..
No other fitness training facility in Philadelphia offers corrective exercise, which fixes your weak links! Your In home personal trainer Center City Philadelphia!
I am one of the few if not the only one in the Philadelphia area also certified as a Posture Specialist through the National Posture Institute.  What does this mean for you? I address and correct your posture. Too many people have poor posture and don't realize it.  I don't just hand you weights and put you through a weight training session. Anyone can do that, but how many trainers look at your body's alignment? You need to be optimally aligned to get the best results, its been proven.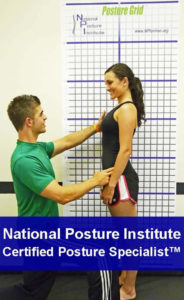 In fact I am one of the few, very few in the entire city of Philadelphia that has undergone specific training by the National Academy of Sports Medicine, in their Corrective Exercise curriculum.  This is specific training that is designed, like no other, to address muscle imbalances and has the evidence to prove how effective it is! Take a look at the above picture to the right, that is precisely what I correct. How can any trainer overlook a body that is not aligned correctly, like the one to the left? It is a poor and flawed foundation which will only lead to injury and lack luster results. I work with you to get your body looking like the one to the right! Once we align your body, your good to go to start getting optimal results!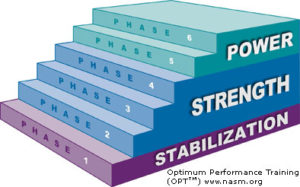 Results is what we are about! Only results! To get results you need to plan! How often do you see people go into the gym to just "do cardio," use a few machines and within 30 minutes they are all done. You have to plan your roadmap of where you want to go , where you are and how to get there to be SUCCESSFUL!
Most traditional resistance training systems only cover resistance training. They don't give you a plan for balance, core stabilization, or even a cardio plan. I do! The pyramid shown above is our plan! I take YOU into consideration as we progress you through the different levels.
Not everyone needs to train for power.  Everyone has specific needs! I have been trained to utilize the training model of the National Academy of Sports Medicine, the ONLY integrated fitness approach!


I'll show you how, in just a few short weeks you'll get the results you want, using the safest, most effective exercises! You get fat busting, metabolism boosting workouts! Let Philadelphia in home Personal Trainer Phil Nicolaou show you how!
The Optimum Performance Model is designed to take into account each individual need and goal. Most other traditional training programs focus on weight lifting, which is also important, but not all that is needed.
Philadelphia in home Personal Trainer takes into account your posture and muscle imbalances.  Your body compensates which means it makes up for weak muscles. This puts you at risk for serious injury and can prevent you from reaching your goals!
Our system uses many of the latest science based and evidence based techniques to get you an optimally aligned body, which means we can alleviate back, pain, and ultimately getting you the best workout, PERIOD. Let Philadelphia Personal Trainer Phil Nicolaou show you the way.All of this in the comfort of your own home!



Find out how to trim and sculpt your body in just weeks or less with my training system! I specialize in Philadelphia Women's Fitness and disabilities! Having helped a countless number of women drop dress sizes, lose inches, lose fat and tone their bodies, I am YOUR ANSWER,YOUR Philadelphia Personal Trainer! Just look at the testimonials I have from only a handful of the many I have helped over the years!They got their makeover, now its YOUR turn! Philadelphia Personal Trainers  has had a lot of success !
After over 10 years of experience, after working in the areas top health clubs and after recently being featured by Philly Magazine's Online Be Well, as one of their go to "fitness buffs," I can change your body to turn heads, drop dress sizes and tone for that look you always wanted! Philadelphia's Personal Trainer!
Do you suffer from low back pain? Can't lose the body fat/weight? Don't fit into clothes? Are you out of breath going for a simple walk? I can help! As Philadelphia's Personal Trainer I have the tools I need and the expertise to change your body like no one else, PERIOD!
Utilizing my Optimum Performance Training model, I can get you the best results possible . Dr Phil Nicolaou , In home Personal Trainer Center City Philadelphia!  By Using this step by step process, I am able to tailor the workout design to your specific needs.
First I do a comprehensive fitness assessment. This allows me to gather all the necessary data to do the job right, as a trained In Home Philadelphia Personal Trainer Center City Philadelphia.
Imagine in just weeks your start to lose inches, your body fat drops to healthy levels and you start to fit into those skinny jeans you love but had to store away. Imagine walking around with more confidence! Imagine going to a reunion and having your old school mates telling you you look incredible! How good would that feel?
Forget the fad diets, allow  in home Personal Trainer Center City Philadelphia , Phil Nicolaou's nutrition manipulation and optimal performance training model get you ultimate results!
Many trainer's promise a lot. However they focus on traditional strength training. Their approach is one dimensional.  Science has proven and shown us that exercise is much more effective when done with different methods and addressing your core. Philadelphia Personal Trainer,Phil Nicolaou understands this method and is nationally certified to do this.  Allow in home personal trainer Center City Philadelphia and PhD of Fitness Training to get you the results you seek!
No one else in Philadelphia has earned their PhD in Fitness Training and has 4 Master Trainer Certifications. Only Phil Nicolaou, Philadelphia's In Home Personal Trainer. center city Philadelphia.


Contact Philadelphia in home personal trainer, Phil Nicolaou TODAY!