Personal Training Studio Philadelphia
Personal Training Studio  Philadelphia
Experience Optimal Fitness and Nutrition at Northern Liberties Trainer hall!
Trainer Hall is conveniently located on Spring Garden Street, between 5th & 6th Street, with easy access from Philadelphia suburbs (via I95 & I76/676) and New Jersey (via Benjamin Franklin Bridge).
Come to an affordable personal training  studio in Philly, where you WILL get the best workout PERIOD!
Come train with the BEST! Come Train at YOUR Personal Training Studio in Philadelphia!
Not many trainers will look how your body moves, correct any muscle imbalances, to get your body aligned properly, and then proceed to the actual workout. Most just have you lift weights.
Come Experience our Optimum Performance Training system,at our personal training studio Philadelphia , conveniently located minutes from Center City,Philadelphia.
With minimal equipment, I guarantee you will get the best workout you've ever had, PERIOD! At Trainerhall we don't try to be a gym. We don't try to be a traditional personal training studio! You will be amazing how much of a workout you will get !
What does the optimum performance training consist of? 
We start off with the OHS, Over Head Squat Assessment. This tells me how your body moves and gives me data on which muscles are overactive and under active, shortened and lengthened. Upon doing corrective exercises, we fix these over time and then progress to the rest of the optimum performance model. This allows for step by step integration and progression of flexibility training, cardiovascular training, strength training, corrective exercise and injury prevention! Very few trainers can do this, but at Philadelphia Personal Training studio, YOUR fitness solution, we offer this exceptional service, all at an affordable rate! 
We then incorporate balance, core strength, flexibility, cardiovascular training all in a step by step system. This is not just, more weight. This is a far cry from the traditional strength and conditioning approach of simply overload with more weight.

Through proper assessment and the overhead squat assessment we can basically determine if and any of what is shown below is going on. Why does this matter? Because if we simply start you off with weight training, we would be setting you up with a poor foundation if we did not address the muscle imbalances. For YOU to get the BEST results we need your body, through corrective exercise, to look like it does on the right side! Ready to be trained!  What other trainer in Philadelphia does this? Not many! This happens at YOUR Personal Training Studio in Philadelphia!

Schedule your free assessment TODAY! Experience Optimal Fitness and Nutrition at your Personal training studio Philadelphia. 
---
CONTACT US for more information on pricing and packages!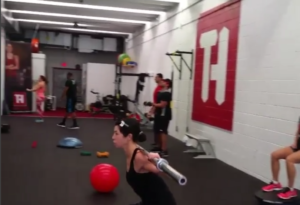 Don't hesitate one more second! Get your Free consultation TODAY! Contact US TODAY! We are your Personal Training Studio in Philadelphia!